Samuel M. Salom Esq., Attorney at Law
Sam Salom represents clients in civil, business, and commercial litigation involving contracts, collections, employment, real estate, and other related matters. A significant portion of Sam's practice is focused on enforcement and collection of judgments. In addition to his litigation practice, Sam provides legal counsel to businesses from entity formation through dissolution on various matters involving business transactions, contracts, corporate governance/maintenance, employment, and real property. Sam is admitted to practice law in all California State Courts, as well as the U.S. District Court for the Southern District of California, and the U.S. Bankruptcy Court for the Southern District of California.
For the past three years (2021, 2022, and 2023), Sam has been selected to the San Diego Rising Stars list for business and corporate law by Super Lawyers® rating service.
Sam previously served as a member of the San Diego County Bar Association's (SDCBA) Lawyer Referral and Information Service (LRIS) Committee, which manages and oversees the operations of the LRIS.
Sam earned his Juris Doctor (J.D.) degree from California Western School of Law where he graduated Magna Cum Laude and ranked in the top 9% of his class. He received Academic Excellence Awards (highest grade in class) in Civil Procedure, Legal Skills, and Specialized Legal Research. Sam also received academic merit and creative problem solving scholarships. As a law student, Sam volunteered at a legal clinic that provides pro bono legal assistance to low-income and indigent members of the San Diego community for which he received the State Bar of California's Wiley W. Manuel Certificate for Pro Bono Legal Services.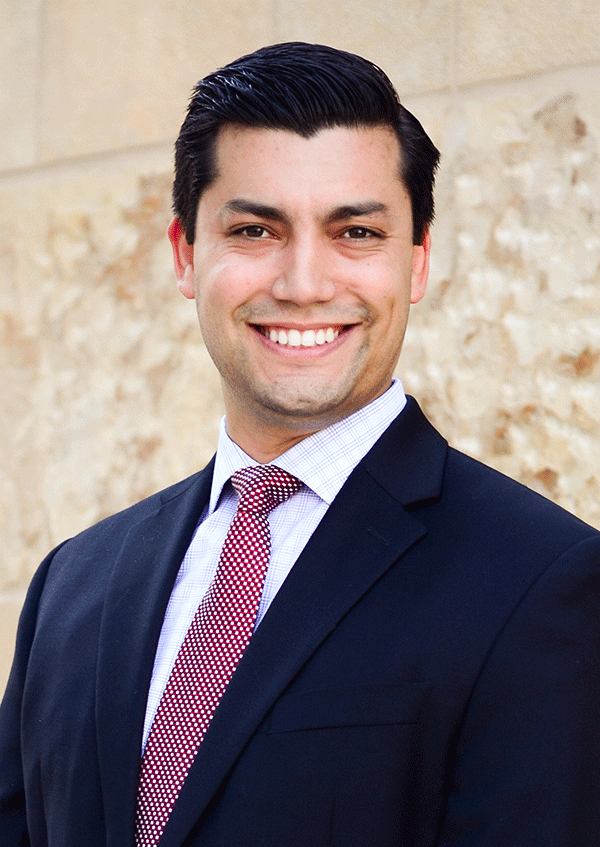 Sam served as a Judicial Extern for the Honorable Judith McConnell, Administrative Presiding Justice of the California Court of Appeal, Fourth Appellate District, Division One. He also served as a Judicial Extern for the Honorable Jan M. Adler (Ret.), U.S. Magistrate Judge for the U.S. District Court for the Southern District of California.
Prior to law school, Sam graduated with Honors from the University of California, Santa Barbara (UCSB), with a Bachelor of Arts (B.A.) degree in History and a Minor in Anthropology. While attending UCSB, Sam was a member of Phi Sigma Kappa Fraternity. Sam currently serves on the Board of Directors for a non-profit corporation based in Santa Barbara.
Sam is a San Diego native and attended La Jolla High School where he played baseball. While in high school, Sam also earned his Eagle Scout. In his spare time, Sam enjoys going to San Diego Padres baseball games, golfing, snowboarding, traveling, and spending time with his friends and family.
Education:
• Juris Doctor (J.D.), Magna Cum Laude, California Western School of Law (2016)
• Bachelor of Arts (B.A.), With Honors, University of California, Santa Barbara (2012)
Professional Affiliations & Memberships:
• State Bar of California, Member
• San Diego County Bar Association (SDCBA), Member
• San Diego County Bar Association's Lawyer Referral and Information Service (LRIS), Former Committee Member
• Consumer Attorneys of San Diego (CASD), Member
• California Western School of Law Alumni Association, Member
• UC Santa Barbara Alumni Association, Member
Bar Admissions
State of California
United States District Court for the Southern District of California
United States Bankruptcy Court for the Southern District of California
Bar Admissions
• Selected to San Diego Rising Stars list for business and corporate law by Super Lawyers® rating service (2021 & 2022).
• Received the State Bar of California's "Wiley W. Manuel Certificate for Pro Bono Legal Services" (2014)
Education
Bachelor of Arts, With Honors, University of California, Santa Barbara (2012)
Juris Doctor, Magna Cum Laude, California Western School of Law (2016)
Professional Affiliations & Memberships
The State Bar of California
San Diego County Bar Association (SDCBA)
San Diego County Bar Association's Lawyer Referral and Information Service (LRIS), Committee Member
Consumer Attorneys of San Diego
California Western School of Law Alumni Association
University of California, Santa Barbara Alumni Association
Attorney Samuel M. Salom Telephone Number: (858) 997-2264
Attorney Samuel M. Salom Mailing Address: 4025 Camino Del Rio South, Suite 300, San Diego, CA 92108